My name is Eve, and I began writing and performing erotic audio in 2014. My goal then, and now, was to create sex-positive, uplifting and healthy erotica, in contrast to the majority of soulless porn. I also wanted to show the many sides of healthy sexuality, including passionate, primal sex, afterglow and connection, humour and playfulness, affection and friendship, support and comfort. In fact I chose the name Eve's Garden not because of the concept of sin, but rather in homage to the idea that Eden was a place where the first humans felt no guilt or shame over nudity or sex.
I wanted to present a holistic image of a sexual woman too - a woman who could be highly sexual but also friendly, smart and caring. I wanted to dispel the idea of the 'saint and the whore' - the woman you fuck versus the woman you marry. I wanted to do my part to end slut-shaming and sex shame in general.
And finally, I wanted to help men in particular enjoy their sexuality without despising themselves or the women they desire. I wanted to help celebrate masculinity, especially when it's under attack now more than ever, and let good men know that their interest in women and sex is healthy and wonderful, and appreciated by more women than they realize. My goal was and is to make men feel good about themselves, about women, about sex, and about life in general. Here are some of the amazing testimonials I've received, all of which I'm extremely proud of and grateful for. I recorded a short audio about my credo as well.
For all these reasons, the sexuality you'll hear on this site is always positive in nature. I don't use terms like 'dirty', 'nasty', 'filthy' to describe myself, what I do, or sex in general, and I think it only further demonizes sexuality when we do. I don't do themes that involve negativity, like: rape, violence, incest, cheating, cuckolding, serious BDSM, humiliation, etc. I don't do custom audio for clients, and I don't do audios specifically for female listeners; I have nothing against them, I am just not attracted to women and don't want to do audios that I don't feel personally. I welcome all listeners, male, female or trans; I simply focus on straight men.
Eve-rywhere - Other Places You Can Find Me
I post regularly on Twitter where you'll find photos and videos of me among other things. I post topless photos, videos and 'vaudios' (erotic audio vignettes filmed while topless or in lingerie) on Onlyfans.com and bimgirls.com (same content, but bimgirls accepts PayPal), and occasionally I'll post images and videos on Eraudica. I keep images and video separate because not everyone who enjoys audio wants to have the fantasy ruined by seeing the person behind the voice.
I'm a voiceover artist who has done commercials, explainer videos and audiobooks such as:
Stay With Me by Eve Elliot (that's me)
A few musical artists have asked to include my voice in their tracks, such as:
This is for you by G the Mastermind
I Want You to Trust Me by E-train
You can also find my work on Spotify and iTunes
My personal author site (Eve Elliot) features most of my writing work
And you can also find me on the community patronage site I created for multiple performers, VanillaAudio.com
A No-Ads Site. Forever
My site is clean and simple, intentionally so. I run no ads, there are no redirects or popups/popunders, and nothing is intentionally misleading. I am honest and upfront about everything I do, because I value my visitors and members. If you sign up for a commenting account or to receive my newsletter, your email address stays with me, you'll never receive spam on account of me. If you join my site as an Eraudica Exclusive member, the same is true. I use trusted payment processors; your details will always be safe and secure.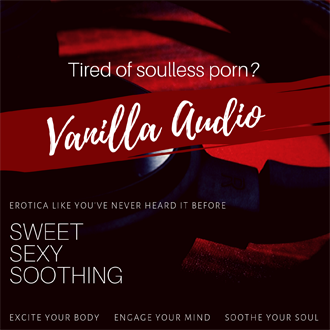 Vanilla Audio
I am also the creator and editor of Vanilla Audio, a multi-performer audio site for men and women, by men and women. Vanilla Audio is a place for taboo-free audio fantasies without disturbing or illegal themes - just sizzling, passionate sexuality. Vanilla welcomes all genders and orientations, we are simply a community of like-minded performers and writers who love romantic, sensual, passionate sex. I make sure all performers and writers are paid for their work, too. Please check it out !
I also offer Eden by Eve's Garden a curated links site to other performers (most of whom offer custom erotic audio), video sites, photography, writing, fine art, and health and wellbeing. The links, performers and authors on this site are hand-chosen by me to represent the best in ethical, professional, positive erotica. They are trustworthy and well-established, and in my opinion they are safe to join and enjoy. I am affiliated with many, but not all, of the paid sites I link to, and I promote the free sites simply because I value them and highly recommend them.
Awards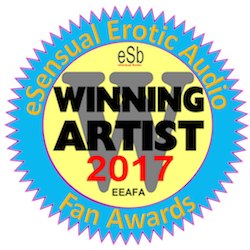 Best Erotic Audio and Erotic Audio Artist of the Year 2017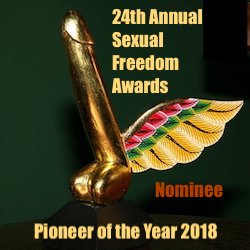 Finalist - Pioneer of the Year 2018
Press
DISCLAIMER - Eve's Garden is an erotic audio performer and voice actress for adults, and provides general solo performances for online entertainment purposes only at Eraudica.com. No actual sex is involved in the recording of any audio, and no personal or custom audio performances or services are offered or accepted. Eve's Garden does not engage personally with her fans and listeners beyond basic comment replies and non-sexual emails, and no relationship between the character of Eve and any listener is implied or intended.
Please direct all queries to me here.
I will respond to all membership or site-related questions and comments as soon as possible, but due to the large volume of emails and comments I receive, I'm not able to respond to all requests for advice, suggestions, etc. Thanks for understanding.❤️
18 U.S.C. 2257 Record – Keeping Requirements Compliance Statement In compliance with the Federal Labeling and Record-Keeping Law (also known as 18 U.S.C. 2257), all models, actors, actresses and other persons that appear in any visual depiction of actual or simulated sexual conduct appearing or otherwise contained at these websites / domains were 18 years of age or older during the time of photography and videography. All content and images are in full compliance with the requirements of 18 U.S.C. 2257 and associated regulations. All records persuant to 18 U.S.C. 2257 are kept at the following location : Unit C1 North City Business Park North Road Dublin 11, D11 RW30 Ireland