Cock Worship - Do you trust me? A gentle introduction to assplay
part 1
I want nothing more than to please you, baby. To give you more pleasure than you've ever felt in your life. So let me suck your cock and lick your balls and tenderly touch your ass...
This gentle exploration is just an introduction - if you already know you like it, then sit back and enjoy the ride! If you know you don't like it or don't want to try it, there's more than enough cock sucking for you to enjoy this audio for that alone. And if you're curious or not sure about it, just let the pleasure wash over you, and decide for yourself....
---
If you're interested in pegging, with strap ons and toys, you might want to check out my new Audio Bundle 3 - 5 unpublished audios on the theme of ass play/pegging.
These are special audios, from scripts written by /u/HighlyAdventurous, (some modified by me to reflect more of my style, *means possible trigger words) that do not appear anywhere else. They are available as a stand-alone purchase on my sister site, bimgirls.com, where you can just buy it directly for $25, no membership needed.
The audios in the bundle are:
Your Girlfriend Pops Your Anal Cherry
Tags: strapon, gfe, spit, anal virginity, eye contact, butt *slut, msub, finger fucking, hand job, good little *slut, quiet, intimate, lube sounds, *good boy, prostate, loving, overcoming doubts, pegging, aftercare, EveDom
Script here
Big Titted Professor Takes Your Anal Virginity
Tags: college, professor, sub, toy, finger on ass, rimming, spit, *good boy, lube sounds, pegging, finger fucking, EveDom, butt *slut, prostate, slaps on ass, anal virginity, aftercare
Script here
Ass Play in the Shower (the longer version of this one)
Tags: loving, gfe, shower, intimate, water sounds, blowjob, ball licking, kissing, tenderness, toy, hand job, pegging, giggling, lube sounds, prostate
Script here
The Best Pegging of Your Life
Tags: gfe, horny girlfriend, strap on, girl cock, lube sounds, pegging, prostate, nice and slow, hard and fast, teasing, spanking, *good boy, aftercare
Script here
Good Boy Gets Pegged
Tags: GFE, strap on, hand job, pegging, spit, stroked and pegged, *slut, *good boy, EveDom. Script here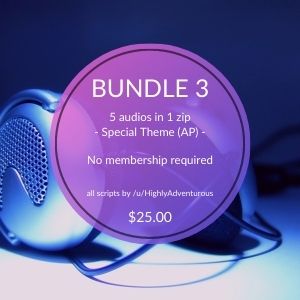 Other audios in series Do You Trust Me?
Cock Worship - Do you trust me? A gentle introduction to assplay

part 1

←
Comments
You must be logged in with a commenting account to post comments. Log in with a commenting account or register a commenting account if you don't have one. This is not the same as a Membership account.